Walk-in Integral Chambers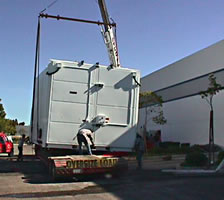 We manufacture a complete line of both welded, factory pre-assembled, integral chambers and prefabricated chambers made from sectional panels.
Integral chambers are shipped in one to six pieces for permanent assembly at your facility. Individual piece size is limited by USA over-road shipping constraints although, very large systems can be fabricated on site.
We offer integral chambers to meet all of the specifications presented in our technical bulletins on our standard F, FNR, FHC (Temperature), FW (Temperature-Humidity), and A, AF, AFW (Temperature-Humidity-Altitude) series of environmental chambers. Custom and unusual combinations of environments are also available including salt fog, rain, solar, wind, sound, high vacuum, thermal vacuum and many others.
Prefabricated rooms, made from sectional panels, can be constructed in any size ranging from the very small to the extremely large. They are often a first choice when there is limited access to the final assembly location or when lower first cost is an important consideration. Information on our Modular Chamber offering can be viewed here. In some cases, integral construction offers important advantages over prefabricated construction. Some of these advantages are covered in the next section of this page "Construction."
---
Construction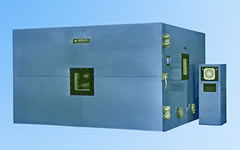 Bemco integral chambers include a heliarc welded, 300 Series stainless steel inner liner, fiberglass insulation, and a structural steel supported, carbon steel outer case finished in Bemco blue. Stainless steel and other exterior materials are also available. No asbestos is used in chamber construction.
Altitude chambers add pressure reinforcement to either the inner or outer enclosure in accordance with Section VIII (Unfired Pressure Vessels) of the ASME Code. No ASME Stamp is applied, since pressure is less than 15 psid. Hyperbaric chambers (altitude above local atmospheric pressure) include special latches and hinges on all doors and pressure interlocks to prevent opening under positive pressure.
Interior chamber baffles are made from 300 Series stainless steel attached to welded supports and interior structures. Access ports are continuously welded to the inner liner and vapor sealed. When temperatures below -70 C or above +90 C are required, integral construction is needed to withstand the high stresses imposed by interior expansion and contraction.
An integral chamber is always stronger and more rigid than a prefabricated chamber. When rapid temperature cycling is needed, we recommend an integrally welded system.
Integral chambers are available with all of the optional equipment offered on our standard F, FNR, FHC (Temperature), FW (Temperature/Humidity), and A, AF, AFW (Temperature/Humidity/Altitude) series of environmental chambers. In addition, secondary man access doors, air lock compartments, interior lighting systems, sprinkler provisions, ramps, and sliding doors are available. Please see the available accessories below.
| | | | | | | |
| --- | --- | --- | --- | --- | --- | --- |
| Temperature | Cooling | Heating | Gas | Temperature | Humidity | Altitude |
| Range, C | Method | Method | Inside | Available | Available | Available |
| -35 to 175 | 1 | Electric | Air | Yes | Yes | Yes |
| -70 to 175 | 2 | Electric | Air | Yes | Yes | Yes |
| -150 to 175 | 3 | Electric | Air | Yes | No | Yes |
| -180 to 175 | 4 | Electric | GN2 | Yes | No | Yes |
| -50 to 150 | 5 | Electric | Air | Yes | Yes | Yes |
| | |
| --- | --- |
| Cooling | |
| 1 | Refrigeration, Single Stage |
| 2 | Refrigeration, Cascade |
| 3 | LN2 Heat Exchanger |
| 4 | LN2 Direct Injection |
| 5 | Fluid "Brine" System |
---