Space Simulation and Thermal Vacuum Systems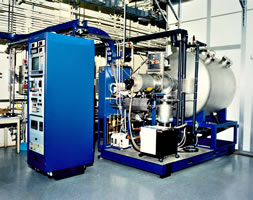 We manufacture a complete line of Thermal Vacuum Chambers, Space Simulation Systems, and Ultra High Vacuum Testing Facilities.
From the very first orbital simulator manufactured in the United States in the 1950's, to state of the art turbo mechanical, cryogenic, and ion pumped systems, we offer all embracing capability and technical expertise in this specialized field.
We design and manufacture our own vacuum vessels, we manufacture our own thermal shrouds from "Bemcoil," an exclusive Bemco product, we manufacture our own base plates and heat exchangers, we manufacture our own fluid and gas circulating systems, and we use only the most reliable, carefully tested components.
This page serves as the master index page for our Space Simulation and Thermal Vacuum System products. Clicking where indicated will take you to the sub-page that describes additional products, contains tables comparing choices, or has technical details. You can return to this page by clicking on the "Return Arrow" at the bottom of each sub-page.
---
Construction


Every Bemco thermal vacuum or high vacuum chamber can be furnished in a round or a square workspace shape. The smallest available systems start at 12 inches inside diameter or 12 x 12 inches wide and high by any length and increase to the largest machines with measurements of 50 feet inside diameter or 50 feet wide and high by any length. The largest systems must be constructed, at least partially, on site due to shipping restrictions.
Bemco chambers and all vacuum accessories, including access ports, are reinforced in accordance with, and designed to meet, Section VIII of the ASME Code (Unfired Pressure Vessels). No code stamp is applied since pressures are less than 15 psid. Chambers are available with inner surfaces made from high strength steel, 304 Series stainless steel, and 316 series stainless steel. For normal high vacuum service, 304 Series stainless steel is recommended. Carbon steel is sometimes specified for very large vessels where cost is a primary consideration and 316 series stainless steel is suggested for pharmaceutical applications and clean rooms.
All chambers include a replaceable "O" ring seal. Interior chamber surfaces are ground smooth and polished for low emissivity and to minimize outgassing. All Bemco high vacuum chambers are tested with a helium mass spectrometer sensitive to 1 x 10 -9 Torr.
Supporting Structure


Exterior chamber reinforcement, enclosures, and structures, with the exception of the door sealing face which always matches the interior material, are made from high strength steel and carbon steel finished with a preventative primer and a Bemco Blue overcoat. Custom colors are available on request. All components used on Bemco Thermal Vacuum and Space Simulation Systems are high vacuum rated.
Fluid and Gas Thermal Conditioners
Liquid nitrogen, circulated fluid, and circulated gaseous nitrogen conditioning of shrouds and base plates are offered. Each system has its own advantages. Flooded and circulated liquid nitrogen systems are selected for continuous operation at -185 C (-300 F).

Gaseous nitrogen conditioners are chosen for their wide operating temperature range and are also specified when the unusual possibility of circulating fluid leakage in the workspace outweighs the gaseous system's much higher first cost. Gaseous conditioners require high pressure, larger horsepower blowers, custom heat exchangers, and special low pressure drop gas circuited headers on the associated thermal shrouds and baseplates.
Circulating fluid systems are the most common type selected. They offer the advantages of excellent thermal uniformity under load and relatively lower operating cost.
| | | | | | |
| --- | --- | --- | --- | --- | --- |
| Bemco | Fluid | Cooling | Heating | Live Load | Temperature |
| Model | In Shroud | Method | Method | Maximum | Maximum |
| Direct | LN2 | Flooded LN2 | None | Medium | -185 C Only |
| PCLN | LN2 | Circulated LN2 | None | High | -185 C Only |
| HPG_LD | GN2 | LN2 Injection | Electric | Medium | -185 C to +150 C |
| HPG_LH | GN2 | LN2 Exchanger | Electric | Medium | -170 C to +150 C |
| HPG_MF | GN2 | Mechanical Cooling | Electric | Medium | -35 C to +150 C |
| HPG_MN | GN2 | Mechanical Cooling | Electric | Medium | -70 C to +150 C |
| PCL-III | Fluid | LN2 Exchanger | Electric | High | -85 C to +150 C |
| PCL-III | Fluid | Mechanical Cooling | Electric | High | -65 C to +150 C |