Construction
AF Series chambers include a 304 Series stainless steel welded inner pressure liner with high temperature fiberglass insulation. No asbestos is used in chamber construction. The chamber liner is reinforced in accordance with Section VIII (Unfired Pressure Vessels) of the ASME Code.
The outer case is fabricated from cold rolled steel finished in Bemco Blue. Chamber doors feature Bemco's dual gasket construction with a replaceable inner "O" ring. One or more, over-center Bemco cam-type latches, seal the door.
A 3 inch, ASA type access port, centered in the left hand wall is standard.
---
Vacuum System
Chamber pressure is reduced by a two stage, oil sealed vacuum pump with a power off automatic suction line dive valve to prevent oil back streaming. Standard pressure control inside the workspace is manual using a climb and dive valve.
---
Conditioning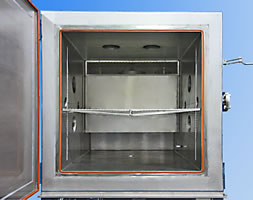 Chamber air is recirculated by one or more high volume, stainless steel axial fan(s) discharging through a hinged rear mounted guard and diffuser baffle to create a uniform environment around your test objects.
The fan is driven by a vertically mounted motor with dual ball bearing races driving a large diameter stainless steel shaft through a magnetically sealed shaft seal.
Fast-response sheath type heaters behind a radiation baffle raise chamber temperature as required.
A proportionally controlled cascade, two compressor, refrigeration system utilizing modern environmentally friendly refrigerants cools the workspace. The system includes automatic hot gas bypass and suction cooling unloading as well as Bemco's exclusive, high reliability coaxial cascade heat exchanger. All systems are water cooled, have thermal and current sensors on each compressor, as well as numerous safety and reliability protection systems for dependable operation.
---
Controls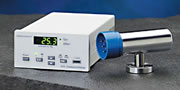 Each Bemco AF chamber is furnished with a microprocessor based programmable 1/4-DIN, solid state, 256-step ramping temperature controller which includes a 4-line LCD interface display and a large red LED display.
Temperature inside the AF chamber is sensed by a precision thermocouple. An RS232 and RS485 interface is standard. Heaters are interlocked with a separate heavy duty power contactor and a factory preset high temperature safety control.
Vacuum is monitored by a Brooks Automation, Granville-Phillips Series 375 Convectron Gauge Controller. This instrument provides accurate vacuum measurements from atmosphere to 1 x 10-4 Torr. It features easy push button control and digital readout. For AF chambers, the RS-232 and RS-485 interfaces on the vacuum gauge control are standard.
An alternate is offered to provide a very accurate absolute pressure transducer combined with a display calibrated in feet of altitude. Click here to review our AI Display and Pressure Transducer Option.
---
Performance
Standard Bemco AF chambers cool from 23 C (+73 F) to -65 C (-85 F) in approximately 60 minutes and heat from 23 C (+73 F) to +150 C (302 F) in approximately 45 minutes, both with the chamber empty.
Temperature control is + or - 1 C (+ or - 1.8 F) guaranteed, + or - 0.15 C (+ or - 0.25 F) typical.
The standard AF series chamber has the ability to reduce pressure from local atmospheric pressure to 8.2 Torr (equivalent to 100,000 feet altitude) in 20 minutes. Ultimate pressure is in excess of 0.13 Torr (equivalent to 200,000 feet altitude).
Standard system power is 230 VAC - 3 Phase - 60 Hertz on the AF10 and AF25 and 460 VAC - 3 Phase - 60 Hertz on the AF50 and AF80. All electrical wiring meets the United States National Electric Code. UL and CSA approved components are used where possible.
---
Optional Equipment
Access ports with ASA pattern flanges in 1, 1.5, 2, 3, 4, 6, 10, 12, and 24 inch sizes (24 inch is not available on the AF8 due to its size).
Wire type shelves and shelf pilasters.
Access ports with Conflat or KF flanges in any commercially standard size with matching cover plates.
A multi-pane, insulated, nitrogen filled vacuum window with an interior light. Standard sizes are 12" x 12" and 18" x 18" clear viewing area.
Electrical, thermocouple, and mechanical feed throughs.
Manipulators, drives, transfer systems, and mechanisms.
An oil mist eliminator on the vacuum line.
A molecular sieve trap with heat regeneration on the roughing pump line.
Four swivel casters with locks.
A heat exchanger type LN2 boost cooling system with automatic level control and vent for extra or back-up cooling.
GN2 gas purge with pressure regulator, gauge, flow measuring and regulating valved rotameter, and vent. Note that this system can only be operated at site pressure.
Desiccant drier purge with dual tower 10 cfm desiccant drier, pressure regulator, gauge, flow measuring and regulating valved rotameter, and vent. Note that this system can only be operated at site pressure.
Four refrigeration gauges (two per compressor) mounted in the refrigeration package available with or without isolation valves.
An outer pressure liner system with a continuously welded inner liner. Outer pressure liners are recommended on rapid temperature cycling chambers. A Bemco equalizer system is furnished to limit potential condensation.
---
Optional Instruments
Controls are mounted on the side to prevent dripping from damaging the instruments. Available instruments include:
Automatic control of vacuum or altitude level.
A Bemco exclusive absolute pressure to feet altitude digital converting transducer using a multipoint look-up table to allow control or recording of pressure directly in feet altitude.
Set of two, one high and one low, microprocessor-based FM Approved temperature safety controls.
A two pen, 12 inch, chart printing, circular recorder to record temperature and absolute pressure.
A two pen or multi-pen strip chart recorder to record temperature and absolute pressure.
An elapsed time meter.
Programmable logic control sequencing of test processes. Bemco recommends Allen Bradley (ABB) PLC's and software.
Touch screen HMI's (human machine interfaces).
---
Available Literature Includes:

Bemco AF Series, Altitude, Temperature/Altitude, and Temperature/Humidity/Altitude Chambers. Eleven standard models and a large number of optional systems. Document is 8 pages, 643 KB download.

Bemco Altitude Table. Conversion Table from equivalent feet and kilometers to Torr (mmHg), kiloPascals (kPa), and pounds per square inch absolute. Covers -1,000 feet to +250,000 feet in 5,000 foot increments. The data presented is based on the "US Standard Atmosphere, 1976 jointly developed by NOAA, NASA, and the USAF. It is an idealized, steady state representation of the Earth's atmosphere that assumes an average value for gravity. Document is 1 page, 108 KB download.
---
The systems described above are our Standard Models. We make custom equipment to your specifications. Walk-in sized altitude, temperature, and humidity chambers are also available. Please look at our Bemco FL Series Page. If you have any questions, need assistance in preparing a specification, or have a technical problem you want help with, we are ready. Our quotations and advice are free.